Classical V-Belt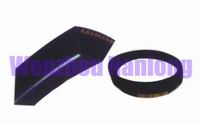 Structure:
1,Shielding cloth : it is made of the special cotton canvas which ensure the belt to be elongation resistant and wearable , making the surface layer tough.
2,Buffered rubber: the rubber with good performance , high wearing resistance, low compress and distortion, which keeps the belt in normal shape during operation and protects the elongation resistant part (reinforce) in the belt.
3,Elongation resistant part(reinforce): the main part contributes to high strength of the belt, it is composed of polyester threads with high elongation resistance.
Cross-section dimension and length of the belt in series
Sketch

Type

Width(dp)

Upper width(b)

Height(h)

Wedge angle(a)

Normal length range

Inch

Z(O.M)

8.5

10

6

40°

400~2400

16"~95"

A

11

13

8

380~6350

15"~250"

B

14

17

11

560~12000

22"~470"

C

19

22

14

1020~15000

40"~590"

D

27

32

19

2000~15000

80"~590"

E

32

38

25

2160~18000

85"~700"
Main technical parametersMaximum deviation of normal length of the belt
Normal length(Id)

Max. deviation

Normal length(Id)

Max. deviation

Z,A,B,C,E

SPZ,SPA,SPB,SPC

Z,A,B,C,E

SPZ,SPA,SPB,SPC

Ld≤250

+8-4

2000<Ld≤2500

+31-16

±25

250<Ld≤315

+9-4

2500<Ld≤3150

+37-18

±32

315<Ld≤400

+10-5

3150<Ld≤4000

+44-22

±40

400<Ld≤500

+11-6

4000<Ld≤5000

+52-26

±50

500<Ld≤630

+13-6

±6

5000<Ld≤6300

+63-32

±63

630<Ld≤800

+15-7

±8

6300<Ld≤8000

+77-38

±80

800<Ld≤1000

+17-8

±10

8000<Ld≤10000

+93-46

±100

1000<Ld≤1250

+19-10

±13

10000<Ld≤12500

+112-66

±125

1250<Ld≤1600

+27-11

±16

12500<Ld≤16000

+140-70

1600<Ld≤2000

+27-13

±20

16000<Ld≤20000

+170-85
Main physical and mechanical performance of the belt
Item

Specification

Z(O.M)

A

B

C

D

E

Elongation resistance

No less than

1.0

1.8

3.0

5.0

9.8

14.7

Anti-pullout strength of the rope

No less than

8

8

8

8

8

8

Referred elongation ratio

No more than

8

12

12

18

22

22

Exposing part of the belt above polley

MM

+1.6

–1.6

+1.6

–1.6

+1.6

–1.6

+1.5

–2.0

+1.6

–3.2

+1.6

–3.2
Agriculture Machinery Variable-speed Belt
| | | | | | | |
| --- | --- | --- | --- | --- | --- | --- |
| | | | | | | |
| Dimension | Symbol | HI | HJ | HK | HL | HM |
| Nodal width | bp | 23.6 | 29.6 | 35.5 | 41.4 | 47.3 |
| Upper width of the teeth | b | 25.4 | 31.8 | 38.1 | 44.5 | 50.8 |
| Height of the belt | h | 12.7 | 15.1 | 17.5 | 19.8 | 22.2 |
| Height above nodal circle | b | 3.8 | 4.7 | 5.7 | 6.6 | 7.6 |