ASME B18.9 No.6 Repair Head Plow Bolts(Round, Countersunk, Heavy Key)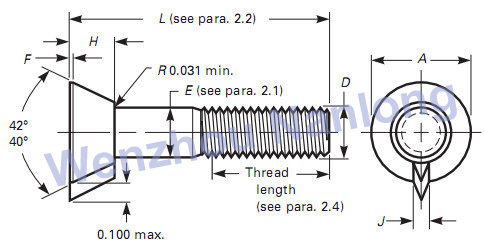 Dimensions of Dimensions of No. 6 Repair Head Plow Bolts(Round, Countersunk, Heavy Key)

Nominal or Basic
Bolt Diameter, D
[Note (1)]

Diameter of
Full-Size Body,E

Diameter of Head, A

Maximum
Feed
Thickness,F

Maximum
Height of Head,H


Maximum
Key Width,J


Max.

Min.

Min.(Basic)

Max.

3/8

7/16

1/2
GENERAL NOTES:
(a) For additional requirements, refer to section 2.
(b) The letter "R" shall be shown on top of the repair head to distinguish it from the regular head
bolt.
NOTE:
(1) Where specifying the nominal size in decimals, zeros preceding the decimal and in the fourth deci-
mal place shall be omitted.