ASME B18.10 Track Bolt Nuts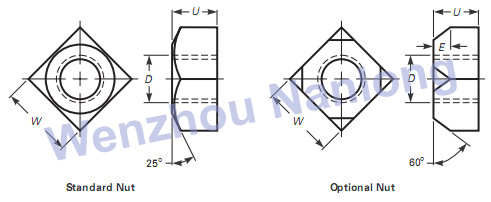 Dimensions of ASME B18.10 Track Bolt Nuts

Nominal
Diameter,
D

Width Across Flats, W

Thickness, U

Chamfer, E
(Optional Nut
Only)
[Note (1)]

Recommended for Grade DH Nuts

Recommended for Grade C Nuts

Nom.

Max.

Min.

Nom.

Max.

Min.

Nom.

Max.

Min.

Nom.

3/4–10

1 1/4

1.2500

1.212

3/4

0.774

0.71

7/8

0.901

0.8330

1/4

7/8–9

1 7/16

1.4375

1.394

7/8

0.901

0.833

1

1.028

0.9560

1/4

1–8

1 5/8

1.6250

1.575

1

1.028

0.956

1 1/8

1.155

1.0790

3/8

1 1/8–7

1 13/16

1.8125

1.756

1 1/8

1.115

1.079

1 1/ 4

1.282

1.1870

1/2
GENERAL NOTES:
(a) All dimensions are given in inches.
(b) 60 deg chamfer is optional when specified. (Dimensions for track bolt nuts are the same as American National
Standard, ASME B18.2.2 for sizes shown.)
(c) Grade DH and Grade C are defined in ASTM A 563.
NOTE:
(1) This dimension is not specified in ASME B18.2.2, which specifies the diameter of the top circle instead.